Information systems
We support logistics, which now plays an important role in corporate strategies, with advanced information systems. We have reconstructed the basic system and completed the transition to an open-source system in order to make the system more sophisticated and faster. In 2013, systems of both domestic and overseas offices were centralized, thereby enabling us to gather information on a global level and provide sophisticated logistics control services.
Integrated distribution information system SWIFT(Sumitomo Warehouse Worldwide Integrated system with Flexibility and Traceability)
Centralized management of information on logistics around the world with an open-source system
After integration of the systems of different sites into SWIFT, we can perform all procedures on a real-time basis, including inventory control, import and export operations, and international transportation. SWIFT has enabled us to provide data and confirm information more quickly than before. The transfer to an open-source system has strengthened the linkage between the basic system and SWAN, our Web system, and thereby has improved the flexibility and usefulness of operation management. Under the system, for example, customers can easily search and share information on inventory control, freight tracking, and other information on the progress of operations, via the Internet. We can customize SWIFT functions to meet each customer's needs to provide diverse logistics services.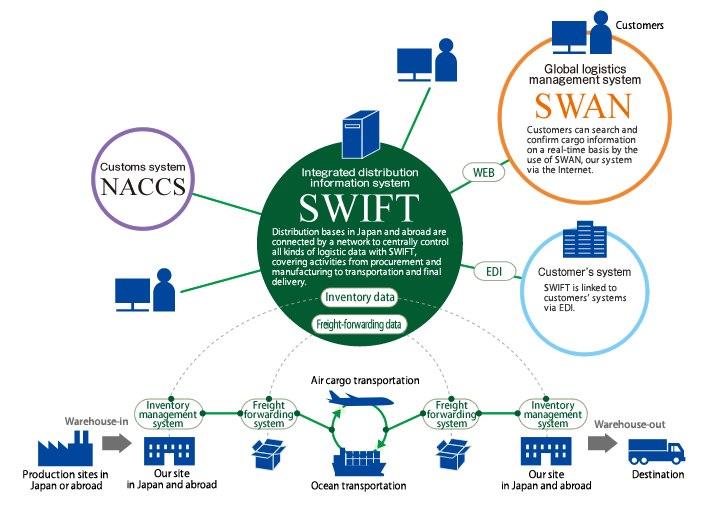 Global logistics management system SWAN(Sumitomo Warehouse Advanced Network system)
Real-time logistics information available around the world
By means of EDI and various other data exchange standards via the Internet in linkage with SWIFT, our global system, secured by encrypted communication for protecting information, the system allows us to share various kinds of information, such as inventories, the history of warehouse-in/out, and freight tracking worldwide. The system provides sophisticated functions such as full access to information on inventory and freight tracking in linkage with shipping company systems based on visualized event management, and alerting on computer display or by e-mail in case of abnormalities (sudden changes in inventory quantities, delayed delivery, etc.)