International transportation
Sumitomo Warehouse Group provides high-quality international multimodal transportation services by land, sea and air using its global networks and high-level coordination skills based on full understanding of characteristics of cargoes and legal systems of different countries around the world.
We not only meet diversifying international logistics needs, such as cross transport, non-resident inventory management, and buyer's consolidation, but also provide total logistics solutions using our information system that allows us to control inventory information on a global level.

International multimodal transportation
We provide logistics services by effectively combining various transportation modes and using our unique information systems.
Project transportation
We utilize our sophisticated expertise and extensive experience to transport heavy loads, lengthy and large objects, hazardous substances, and other project cargo. We assist with big projects worldwide through integrated services that include packing, transportation and installation.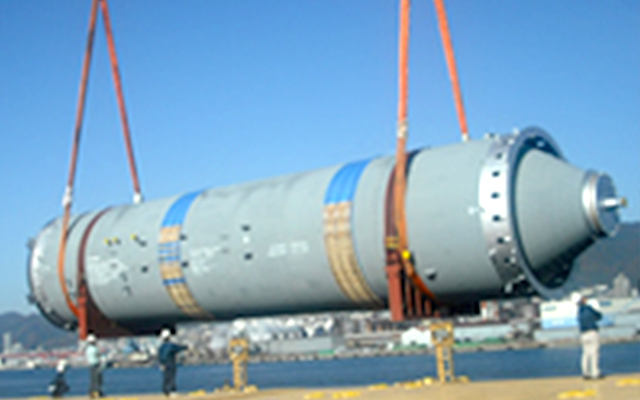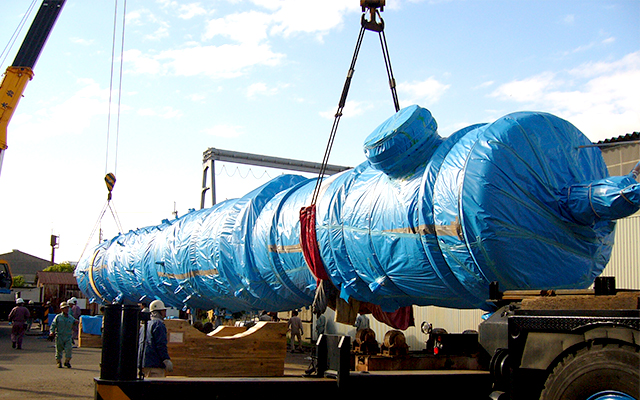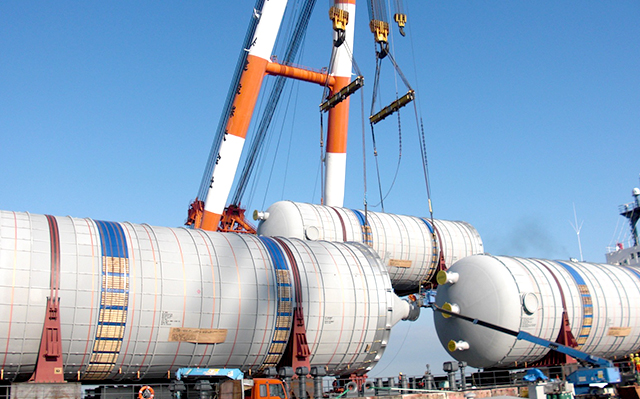 Transportation and packing of large/special cargo
We have abundant experience of handling large cargo that cannot be stored in general containers, as well as special cargo that requires temperature and humidity control or that contains hazardous items. We can also dispatch supervisors to each port and destination on the occasion of the transportation of large cargo such as massive and heavy plant facilities. We offer integrated services that include packing, transportation, and installation while utilizing our sophisticated expertise and extensive experience.
Appropriate services according to the size, form and characteristics of each cargo are available. For example, goods that gather rust will be put in vacuum or moisture-proof packaging and, if necessary, in wooden or steel boxes.
Special vehicles or conventional vessels with a hatch may be prepared according to the circumstances. We take every measure to ensure that each cargo reaches its destination without fail.
Overseas distribution
To meet needs of customers that are increasingly advanced and diverse such as VMI (Vendor Managed Inventory), JIT (Just In Time) systems and merchandise processing, we provide high-quality inventory management and delivery arrangement all around the world by using our bases.
In addition, we develop optimum logistics systems based on overseas customs clearance, taxation, and related systems by bringing together distribution and information systems.
Obtained ISO 9001 certification, an international standard
We acquired ISO 9001 certification, the international standard for quality management systems, at our offices and warehouses to offer high-quality logistics services that satisfy our customers.
Approved as an authorized customs broker
We have been approved by the Director-General of Osaka Customs as an authorized customs broker under the AEO (Authorized Economic Operator) Program. We enjoy preferential measures based on this approval, and offer services related to import/export cargo with a shorter lead-time.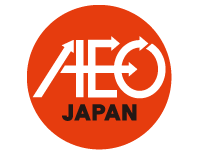 Overseas business development / Abundant experience
Non-resident inventory (Consignment inventory)
We have operated our warehouse for 25 years in Antwerp, Belgium, where non-resident inventory handling is allowed. We are the pioneer of this service among Japanese logistics companies.
We have accumulated knowledge about customs clearance and VAT registration in shipment of non-resident inventory in the EU and as such, we can provide many useful suggestions including improvement of cash-flow related to import VAT. We will assist you in establishing a logistics system in Europe using our knowledge and know-how supported by our experience.
We also have several bases in Asia, just like Antwerp in Europe. We have been offering best solutions for customers considering utilization of non-resident inventory.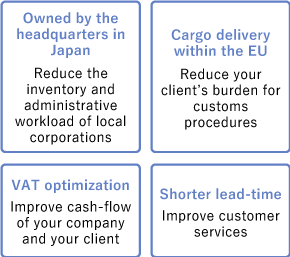 Cross transport
Transporting products manufactured at an overseas production base to another country other than Japan, or transporting raw materials from a country other than Japan to a production base in another country - such transportation not involving Japan is called "cross transport" and steadily increasing in the trend of business globalization. There are many challenges in cross transport, such as the difficulty of tracing the transportation status.
However, we have abundant experience of cross transport based on our worldwide network and we exercise good control of cross transport. We support operation at the points of departure and destination in a well-organized manner, under close cooperation with associate companies and our partners.
We also share the real-time transportation status with our customers.
Outsourcing and consulting related to overseas distribution
We have extensive experience and know-how regarding overseas distribution involving Europe and the United States as well as emerging countries and the Middle East.
We are familiar with the complex customs system, legal system, commercial practices and specific distribution circumstances of each country. If you totally entrust your overseas distribution tasks to us, we will surely achieve results as your company's overseas distribution department.
We also assist you in establishing an optimum SCM system for overseas production from scratch by providing accurate information and detailed consultation and, if necessary, by visiting the site overseas.
We will help you resolve every challenge related to overseas distribution tasks arising out of your global business advancement.
Air cargo transportation
We are well experienced in the field of air cargo around the globe and are broadening the possibilities for air transport.
Through a network that extends around the world and with our extensive experience, we minimize costs and time to meet a wide range of air cargo needs.
Air freight forwarding
We arrange all aspects of forwarding following precise schedules, including the calculation of freight costs and charges.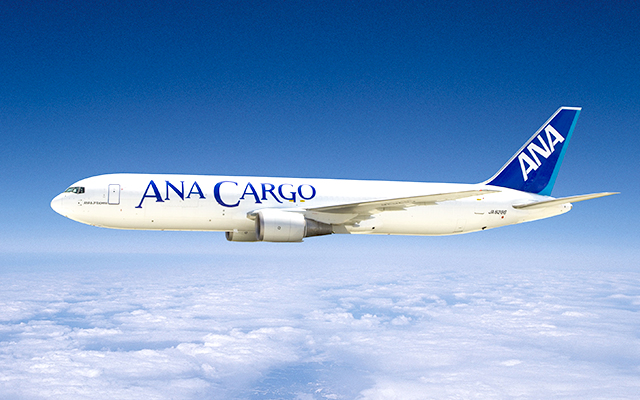 Import/export customs clearance
We handle animal or plant quarantine, which is differ with products. We also do procedures related to foods, and other procedures to clear customs quickly.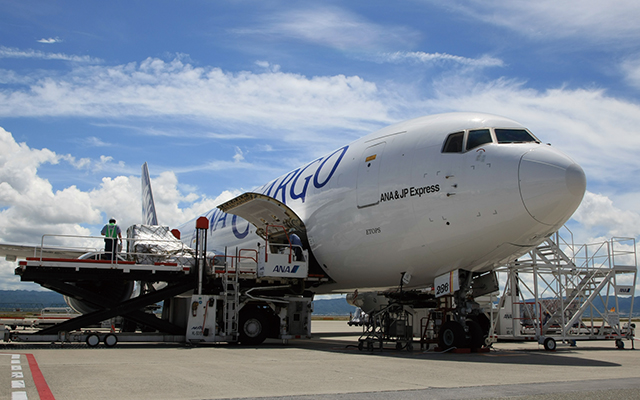 Special packaging for air transportation
We handle everything from collecting cargo to packaging, weighing, and labeling. In addition, we carry out various procedures related to air freight forwarding as an airline company agent, including insurance agent functions.
[Overseas business development]
In collaboration with associate companies and business partners in various countries, we can also provide inventory management and transportation management, and handle complex procedures at export destinations.
We provide various transportation services including ULD(unit load device)transport, door-to-door intermodal transportation, and local delivery using temperature-controlled trucks and trucks with air suspension.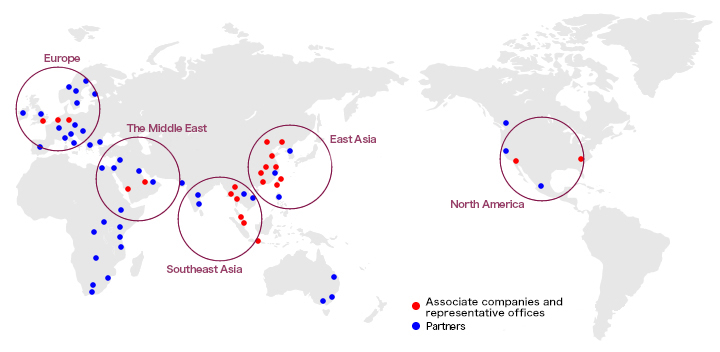 [Our extensive experiences]
Inventory management overseas for exported cargo, re-exportation to a third country
Documentation and local delivery for overseas moving cargo
Import and export of sensitive cargo such as semiconductor manufacturing equipment and clean room equipment
Import and export of hazardous items
Transportation experiences in the import and export of flowers for the Floriade and other flower expositions around the world